Why Outsourcing Your Web Development Is A Good Idea?
What is Outsourcing?:
Outsourcing is a business practice in which a firm or an entrepreneur hires another firm or a professional individual for a website, web application, or a PHP developer London at a professional level. Outsourcing can also be done in other fields where the expertise and professionalism is the prime aspect.
Examples of Outsourcing in general:
1) An electronics company requires a web application that will help their customers interact with their web app. The web app should have complete information about the electronics product, and the new information should be easily fed in it. They need it to be outsourced its web application development endeavors to a professional freelancer- PHP web developer for back-end and angular js developer for front-end development.
Source: codifier
2) A manufacturing MNC giant required some part of their work to be carried out at a lower cost and higher efficiency, to meet the 'minimum profit'. The management plans to outsource its SAP-based Supply Chain Management Process to an IT company. Now the SCM process is completely outsourced to the IT company which takes care of their business process interests.
3) The bureaucracy of a country requires the documentation process to be stored on Cloud at a safe place. It also urges to be able to fetch it at any point of time required. Thus, they decide to outsource the Database Administration, Data Warehousing, Security related work to an IT company that already works on Database platforms like Oracle, Informatica, and Talend.
Outsourcing in the field of web development:
Now coming back to the web development field! We have seen many business companies in the UK (especially) getting their website or web application(s) built at a professional web development agency (in London) or they will simply hire a professional freelancing web developer.
Why Is Outsourcing so important?
There could be various reasons for companies outsourcing their development endeavors to other companies.
Globalization is forcing many businesses to constantly improve their competitiveness. The outsourcing of web development has proven to be a spearhead for the success of many companies around the world.
1 – Cost Savings & Time Savings
There is no point in wasting your time in gathering resources for the work which you can easily outsource at a comparatively lesser expense. Outsourcing surely facilitates businesses to reduce labor expenditure.
2 – Expertise and Experience Matters
In a fast-moving technological world, it is unlikely that your company will get expertise in everything that your company needs! Outsourcing helps not only to reduce the expenses but also gets your job done at the hands of professionals who have a profound experience and expertise.
So it is smarter when you outsource your development work to a web development company.
3- Talented IT Professionals
You'll get hold of the professionals in the field of information-technology who have been serving in the same domain for years and are highly talented to have reached that place!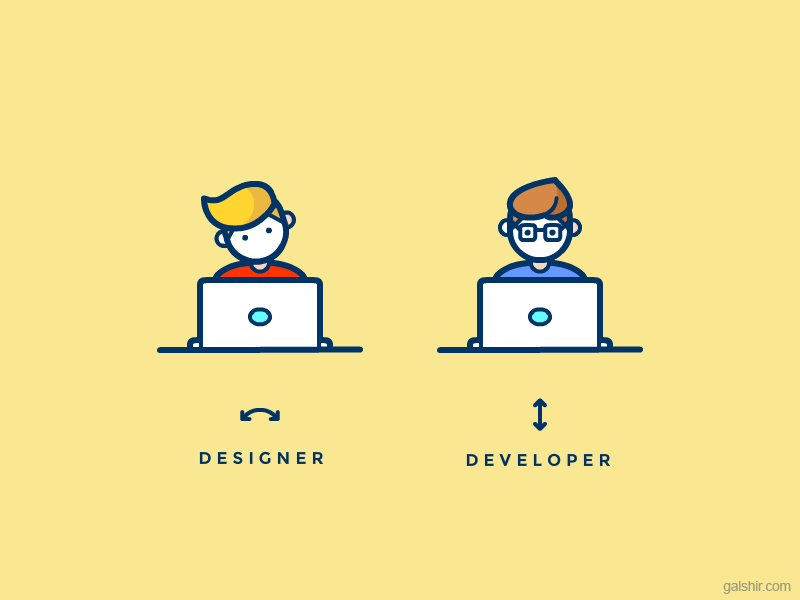 Source: dribble
4- Focus on Your Core Competencies
Lets your company focus on the core competencies. You need not take a deep interest in fields or works that are none of your business, rather you should be determined by the things that your company offers!
5 -No Biting Round the Bush!
The PHP developer, angular js developers, python developers, Java developers, node js developers, react js developers, and few others there in the outsourced company will use their handy expertise and experience to make your project flawless and awesome. The accuracy of the business requirements will be high. The web development will meet the expectations as well as deadlines.
6 -Accountability
The company to which you would outsource to – shall also be accountable for getting the work done in done, and that too with special and professional care!
Conclusion
As mentioned above, outsourcing is a key thing for the vast success companies are having in their core competencies as they are free to take care of the same!
Ultimately it is up to you to whether gather all the stuff and get it done all your own or to think smart and outsource the stuff that or-else you will have start from scratch. The choice is up to you!